INSIDE ATLAS' CHAMPAGNE CELLAR
It's hard not to gape the moment you step into ATLAS, what with its imposing Art Deco design and furnishing, as well as the impressive gin tower in which bottles of over a thousand different types of gins sourced from all over the world are displayed proudly. But it is underneath that tower, behind the bar counter, where some of ATLAS' most prized possessions lay, hidden inside a bespoke rose gold walk-in Champagne Room.
Curated by Head Sommelier Mason Ng and Jack Cheung, the Family Sommelier of the Hwang family (the owners of the Parkview Square building ATLAS is housed in), the ATLAS Champagne Collection comprises of some of the finest, rarest, and most highly sought-after Champagnes in the world. Yet, it doesn't matter if you are a simple lover of bubbly, a Champagne aficionado, or a fervent collector of exquisite bottles. The robust Champagne programme at ATLAS welcomes all to get, well, fizzical.
At any one time, there are eight different Champagnes offered by the glass, so you don't need to get your bubbly buzz from just one wine. There are even curated flights to choose from should you like to compare say, different grapes or different styles. The full Champagne wine list is divided into four portions, La Sélection, Le Terroir, La Prestige and La Collection. Bubbly aficionados can geek out over the Le Terroir, where the wines from the 17 Grand Crus of Champagne are divided into three regions; while lovers of big name Champagne houses can head to La Prestige to order up their Dom Pérignon, Cristal, Krug, Bollinger, and the like.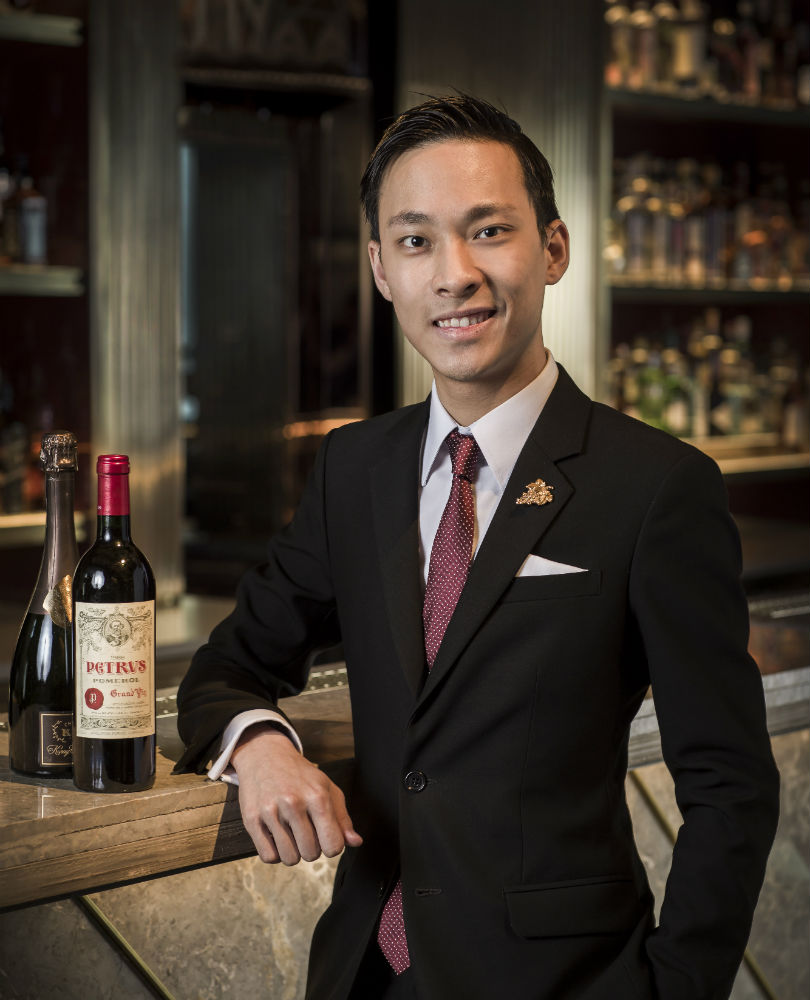 Intrigued? We got Head Sommelier Mason Ng to give us the low down on ATLAS' Champagne programme as well as a peak into their cool cellar. We also check in with him on his love for wines, bubbly, and Champagne paired with local food.
What sparked your interest in wine?
I got into wines at the age of 13 mainly because my uncle was very much interested in wine and once a while when he came over he would bring a nice bottle of wine. Every time I tried them, they all taste different, and then I started to think why are some wines priced $20 and another is $80, the other $100 or even $200 and $300. Furthermore, I saw a series of Youtube videos called "So you think you know wines", where wine experts blind taste wines on the spot. That made me very much interested in wines and I wanted to actually have the skill to taste the wine and be able to identify where the wine was from, its vintage and so on. It boils down to me being very curious about wine.
What was the first wine you ever tasted?
The very first wine I tried was some sort of ice wine. The one that I can truly remember was probably a Torbreck, old vine Shiraz.
What do you look for in a Champagne?
If it is a Grand Cru Champagne, I look for all the characteristics that should be in that particular Grand Cru parcel. If it's just a normal bottle of bubbly of course you look for balance. You don't want it to be over acidic, which is very common in Champagne because Champagne is a very very cold region. This leads to under-ripeness in the grapes, due to early harvesting or the weather not being warm enough for the grapes to ripen. I like nice richness in the Champagne, good acidity level. For dosage level, I'm okay; I don't need it to be ultra "Brut" (dry). In the end it's about balance: balance of acidity, balance of the ripeness and sugar level inside. On top of that, my personal preference is a little bit of oak-ageing inside to give it a little bit more richness.
How do you identify under-ripeness?
Under-ripeness to me is first of, the acidity will be very high or you can say it's very tart. Generally some winemakers harvest early because the later you harvest, the more damages (to the grapes) could happen. In Champagne, there're a lot of diseases or even natural disasters that actually happen so some producers might harvest it early. When a Champagne's acidity is very high and you don't feel enough broadness and richness on the palate. A Blanc de Blanc (Champagne made only with Chardonnay grapes) would be high in acid, but it could be minerally driven, clean and you'll still get notes of green pear, green apples coming out. What you don't want is to taste lemon curd – that's too acidic and not very enjoyable.
What Champagne and local food pairing do you recommend?
Champagne and har cheong gai, or prawn paste chicken. If you don't mind splurging, I would recommend David Léclapart, particularly in L'Apôtre, because the Champagne's base wine is aged in oak casks by Domaine Leflaive from Burgundy – the price point for this is quite high. For daily drinking, I would say Ulysse Collin Les Maillons Blanc de Noir, which has the nice richness to go with the strong flavours of har cheong gai.
This article was adapted from an original interview by SALT Magazine