ATLAS grand lobby and bar launched to the world at the start of this year 2017 and it seems to have been received with an equal measure of incredulity and wonder. This big beautiful home of ours has debuted (again) with a splash. The team has been overwhelmed and humbled by the amazing, supportive and positive response from around the world and genuinely can't wait to host our friends, both old and new at ATLAS. To say the last few months have been a whirlwind would be an understatement, but night after night the team strived to provide true hospitality to each and every one of our many guests. The recognition is amazing, and the team is truly honoured with the response.
Beyond the buzz that surrounds our concept, team and unique décor, one of the most talked about, and indeed exciting, aspects of ATLAS is the ATLAS Gin Collection. Here, we want to take an opportunity to not only briefly explain what the collection is 'all about', but also express our heartfelt thanks and 'shout out' to all those who have helped along the way in building the collection.
When the building's founder, C.S. Hwang, built Parkview Square, the home of ATLAS, he did it with a love of Art Deco, Art Nouveau and a shared vision for a grandiose lobby space for the tenants of what is now one of Singapore's most recognised office buildings. The lobby space was clearly not an exercise in subtlety and ATLAS plays on this expression of decadence by returning to its first inspiration, delving into the period; celebratory Europe between 1915 and 1939; the 'Golden Age', or the 'Gilded Age'. It is from this period where the inspirations behind the creative elements of ATLAS – both tactile and intangible – first originate. And it is from this place and time that first came the idea to heavily feature gins.
With that in mind, we recalled that some of the most revered cocktail books came from this time and from some of the greatest hotel lobby bars in the world. The Savoy Cocktail Book (1930) and the Artistry of Mixing Drinks from The Ritz, Paris (1938) all feature famous gin cocktails that we cherish. The Café Royal Bar Book (1935) also gave us cocktails like the Golden Dawn and the 20th Century. Gin and gin splashing was de rigueur, especially in the eponymous martini.This historical inspiration, our own obsession with gin and the current global gin renaissance meant that a grand gin collection would be a great idea and would help tell the narrative of our grand art deco lobby and bar.
Such grand ambitions came with a great responsibility and a price tag to match. It meant we had to curate a world class gin collection, a collection to help spike gin's boom in Asia, and to position ATLAS as a regional centre for learning and excellence around the world of gin, gin cocktails and gin lore. Through the large collection, an ongoing series of events, and the upcoming ATLAS Juniper Society, we are committed to becoming that regional center of learning and development of the gin category.
Because of the dramatic nature of ATLAS, it also meant we had to put together a collection that was large, global in thinking and credible in curation.
That's when the fun started.
To fill our 15-meter tower with the best gins from around the world we had to develop an intricate procurement process, but also send out a call to gin makers, creators and enthusiasts from around the world.
First, we set ourselves some basic rules for which gins go into the collection;
• They must be 40% abv (alcohol by volume)
• They must be a distilled gin (a legal term for a style of production)
• And we must know where they are made, and by whom.
There are exceptions to the rules of course, but only for novelty's sake. For instance, a number of our vintage gins are under 40% for historical reasons, as are some regional gins from Southeast Asia where gin production is a nascent endeavour.
Next, we set about putting together a huge ledger of the world's best gins — ones that we could find online and identify. The man largely responsible for this colossal task is Jonathan 'Bravo' Teo – the ATLAS Gin Researcher and now bona fide gin expert. Bravo and others put together a huge ledger, replete with email addresses for every quality gin we could find in the world and then set about inviting said gins to be a part of the collection by way of a carefully written letter, explaining our mission to build the love of gin in Southeast Asia.
The response from around the world was fantastic, and we've been lucky to have amazing support from gins who believed in us from the start. Many of whom were willing to take that step and box up a bottle, go down to the post office and send us their creation – it's this belief and collaboration that means a lot to us and we are so thankful.
We received gins from EVERYWHERE! The South Island of New Zealand, Yukon Territory, Canada, the Andes of Bolivia, farms in Tasmania, Australia, the back streets of Bangkok, vineyards of France, and all through England. From all corners of the world, people are making beautifully crafted gins, so it seems. The reply was inspirational and we are very grateful.
We called this 'collaboratively sourced' – a term we defined when we split the costs of the gin with the gin producer, industry association, etc. Tax on spirits is not kind in Singapore!
And while we did purchase large caches of gins, a massive proportion came to the collection through our friends and family scouting for gins on their travels and lugging them back to Singapore. Every day we now have a global ATLAS family that send us pictures of new gins from wherever they are in the world.
We also implemented our 'Martinis for Mules' program (NOTE not an official program). This means anyone who brings us a bottle of gin we haven't got or need, they have an ATLAS martini on us, as well as being reimbursed of course.
We also hit the road ourselves, with myself, Bravo and others on the ATLAS and Proof teams travelling around the world picking up gins wherever they could be found. We went to gin festivals on 3 continents, visited numerous gin distilleries in 5 countries and picked up gins in sometimes funny circumstances. Vicky Hwang, Managing Director of Parkview Singapore, even traveled by car around rural Virginia to visit small gin distilleries. Whether it was meeting someone on a dark corner in New York or a bartender handing a bottle over the bar in a nightclub in Hong Kong, we were gifted, and purchased, bottles of gins everywhere we went.
It's important to know that every bottle of gin in our tower has a great story. Not only is it about the creator, the provenance, the ingredients and the land in which its made, but also how it got to us, and its these stories that the team at ATLAS get to tell every night.
We want to thank all the people that are behind the wonderful gins that we present to guests for their remarkable support and spirit of collaboration. Without you, ATLAS and the gin collection would not be possible. We look forward to paying it back by introducing new drinkers to your gins, and telling the world about your craft, and continuing to bring the world of beautifully crafted gin to Asia.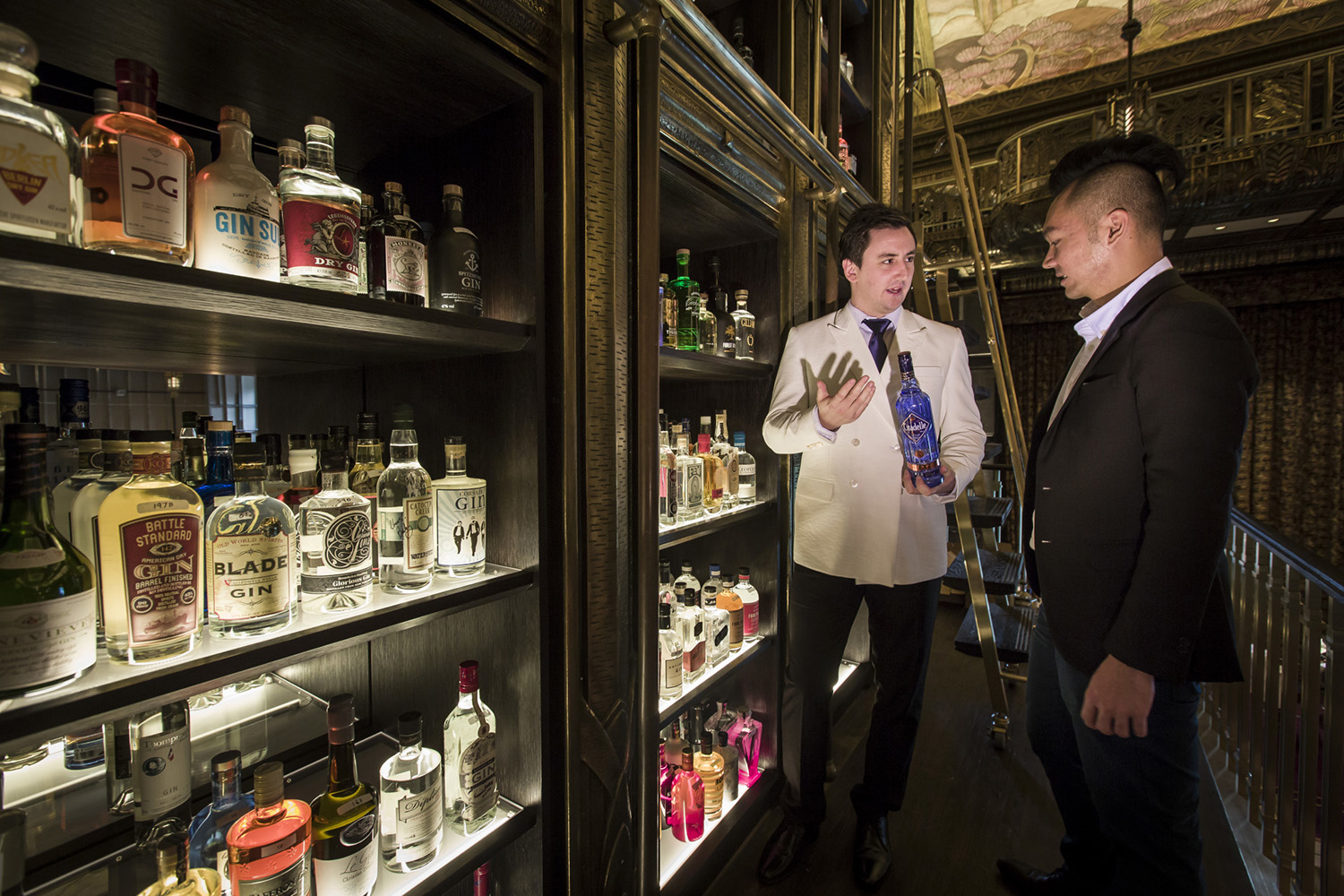 ATLAS' Master of Gin, Jason Williams on our iconic Gin Tower